Greetings HaloTech! It appears we are due for some updates. I'll let you know what we have in store for you!
What to look forward to
Profile Custimizations
Blogs
Arcade Games
Frequent Podcasts
Cookie Mart
Updated Stat System
GEE-MC Adventures
Much more to come!
Updated Profiles!
Well, you can thank your Admins for this one. . . Bigstack, Tactics AND Air Force Hero all slaved over your new customizable profiles. You now have the option of adding color and images to your profiles. They also rearranged the position of the comment boxes and set up all of your information boxes into one long box. To customize your new profiles all you have to do is click on the button placed above your comment box (see photo below).
Once you click on this link a box will appear and this is where you edit all the colors for your profile. From this box, you may also add images or graphics to the background areas of your profile.
For a video tutorial be sure to click on this link.
If you have any troubles adding or removing colors be sure to contact an Administrator for help
Express Yourself!
Yes, we are bringing
blogs
back to HaloTech. Start a blog to tell everyone how your day was or start a blog as a personal reminder for you such as workout tips and more. Blogs aren't 100% private however, people may be able to visit them and leave comments so be careful on what you blog. Blogging will allow us to focus more on our lives and then allow us to use the forums as a gaming source. If your having trouble finding the
blog section
or need ideas on what to blog please PM a staff member.
Game On!
The
arcade
is back! We will be featuring new games and a whole
scoreboard system
to keep track of scores and display the alpha-dog of the arcade. In the arcade you can chill out in recreation mode and just play some nice games for leisure. . . or you can enter underground mode and start tournaments and have competitions. The winners of these tournaments will be displayed as #1 in our
Tournament Brackets
. If you guys want to play for a bit of a gamble wager your cookies! just make sure that no real-world items/currency is bet on ANY arcade game.
Podcasts!
HaloTech's infamous Podcasts will be returning and be better than ever! In our new podcasts we will be featuring, gaming tips, HaloTech attractions and HT updates still to come. Also our Podcasts will be more frequent then ever. We will release shows based on up-to-date topics. Be sure to stay in tune for
TechTalk
and other shows and contact an Administrator if you would like to be a part of the Podcast team.
Cooookie Crisp!
Yum!! HaloTech's
COOKIE Mart
is alive and kickin'. Build up your cookies by creating threads, being active, replying to blogs, and more. Visit the COOKIE Mart to exchange your forum points for cool prizes such as custom titles and username glows. Also you have the option of giving your cookies to another user. Start a business! Sell signatures for X amount of cookies, hold contests for cookies, even give your cookies as a gift to one of your friends. We have created an economy for HaloTech, make use of it!
New Stat System!
Whew! we've needed this for awhile. HaloTech is slowly doing away with our
old stat system
and replacing it with our brand new
Beta System
. Make an account and behold the beauty of our new system. Get signatures, discover stats and view memberships of players. Also, an update that falls under the stat category, our
XBL leaderboard system
. Check and see which members have the highest gamerscore. Also use this update to discover certain users gamertags!
Spartan Generator!
HaloTech hosts a new spartan generator program.
GEE-MC
is available for your use. Just follow the link or look for it on the tool bar at the top of our website. Place Halo 3 armor on your spartan and add flames if you like. Combine a Hayabusa head with a katana body. Take a picture and let's see your style. Here is mine.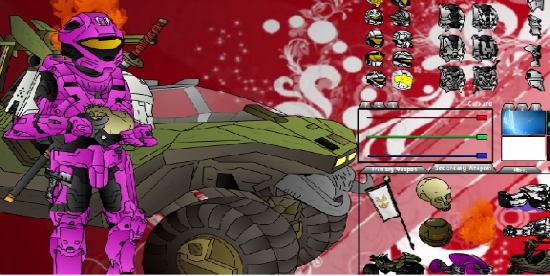 TH-TH-TH-That's all Folks!
Well, that's not really it. . . we still haves tons of more updates coming YOUR way. To be the first to know about these new updates and when they're coming be sure to subscribe to the
News & Announcements
forum section. We will post updates and more goodies here. For now, keep gaming HaloTech! Hope you will enjoy our updates!
Yours Truly,